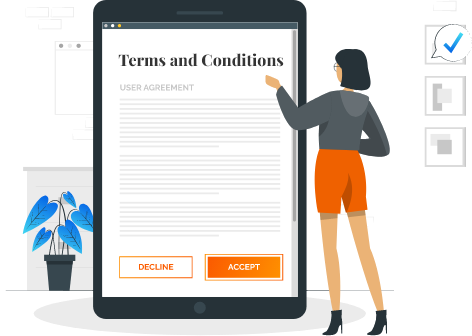 This Agreement was last modified on 1 January 2021.
Please read these Terms of Service completely using BOOM IT WORLD which is owned and operated by BOOM IT WORLD. This Agreement documents the legally binding terms and conditions attached to the use of the Site (www.boomitworld.com) at BOOM IT WORLD.
By using or accessing the Site in any way, viewing or browsing the Site, or adding your own content to the Site, you are agreeing to be bound by these Terms of Service.
Our website grants you a non-exclusive limited licence to use the Plugins sold through our website (www.boomitworld.com) by BOOM IT WORLD LTD. in accordance with these Terms & Conditions (the "licence") issued by our company.
Platform and Browser Compatibility
It is our obligation to keep our own products cutting-edge and working with the most recent adaptations of all the platforms we are providing. Our products are created and upgraded for present or higher versions. Also, when we talk about Browser compatibility, Our Product supports most convenient web browsers including Firefox, Safari, Chrome and Internet Explorer 9+. We do our best to make up for the absence of web norms support (identifying with HTML and CSS) in a portion of these browsers.
Delivery and Price Changes
After we receive your payment, an invoice will be mailed to the respective email address shared by the client (you) or any other person representing the company or client. In the case, where mail is not received by the client or their representative, kindly get in touch with our team and further the team will look into the concerned matter or problem. BOOM IT WORLD holds the privilege whenever to change costs, or to stop, temporarily or permanently, any product or any service with or without notice.
Ownership
You may not guarantee scholarly or restrictive ownership to any of our Products, modified or unmodified. All the products are the property of BOOM IT WORLD. Our products are provided "as is" without warranty of any kind, either expressed or implied. In no occasion will our juridical individual be at risk for any harms including, yet not restricted to, immediate, aberrant, uncommon, coincidental or noteworthy harms or consequential damages emerging out of the utilisation of our inability to utilise our products or service. You may not redistribute our Products or services.
Support
BOOM IT WORLD offers service with no suggested implying that they will work precisely as you wish or with all third parties and plugins. Our Support team will be available for all the queries to handle only for 30 days from the purchase date of the product or service. (These 30 days will include all the public holidays and weekend holidays.)
Guarantee
BOOM IT WORLD does not guarantee or ensure our products or service in any way. We can't ensure they will work with all third-party modules, plugins or internet browsers nor we take any responsibility for the same. As this is not covered as part of our work/service. Please assure that the browsers you use will work with the Plugins, as we can not guarantee that Plugins will work with all browser combinations.
(Our organisation maintains all authority to change or alter current Terms and Conditions with no earlier notice.)
ACCEPTANCE OF TERMS
The following Terms of Service Agreement (the "TOS") is a legally binding agreement that shall govern the relationship with our users and others which may interact or interface with BOOM IT WORLD LTD., located at 9131 Keele Street, Suite A4, Vaughan, ON, L4K 0G7 Canada and our subsidiaries and affiliates, in association with the use of the website, which includes www.boomitworld.com, (the "Site") and its Services, which shall be defined below.
DESCRIPTION OF WEBSITE SERVICES OFFERED
The Site is a information website technology services which has the following description:
BOOM IT WORLD LTD is a professional web design & development company and digital marketing & SEO agency, located in Vaughan, Canada. We provide custom web development & design, logo design, UI/UX Designing, SEO, digital marketing and mobile app development services. Our team of seasoned professionals are expertly trained to handle all of your online development & marketing needs.
Any and all visitors to our site shall be deemed as "users" of the herein contained Services provided for the purpose of this TOS.
The user acknowledges and agrees that the Services provided and made available through our website and applications, which may include some mobile applications and that those applications may be made available on various social media networking sites and numerous other platforms and downloadable programs, are the sole property of BOOM IT WORLD. At its discretion, BOOM IT WORLD may offer additional website Services and/or products, or update, modify or revise any current content and Services, and this Agreement shall apply to any and all additional Services and/or products and any and all updated, modified or revised Services unless otherwise stipulated. BOOM IT WORLD does hereby reserve the right to cancel and cease offering any of the aforementioned Services and/or products. You, as the end user acknowledge, accept and agree that BOOM IT WORLD shall not be held liable for any such updates, modifications, revisions, suspensions or discontinuance of any of our Services and/or products. Your continued use of the Services provided, after such posting of any updates, changes, and/or modifications shall constitute your acceptance of such updates, changes and/or modifications, and as such, frequent review of this Agreement and any and all applicable terms and policies should be made by you to ensure you are aware of all terms and policies currently in effect. Should you not agree to the updated, revised or modified terms, you must stop using the provided Services forthwith.
Furthermore, the user understands, acknowledges and agrees that the Services offered shall be provided "AS IS" and as such BOOM IT WORLD shall not assume any responsibility or obligation for the timeliness, missed delivery, deletion and/or any failure to store user content, communication or personalization settings.
LIMITATION OF DAMAGES
In no event shall BOOM IT WORLD or any of its subsidiaries be liable to any entity for any direct, indirect, special, consequential or other damages ( including, without limitation, any lost profits, business interruption, loss of information or programs or other data on your information handling system) that are related to the use of, or the inability to use, the content, materials, and functions of this website or any linked website, even if BOOM IT WORLD is expressly advised of the possibility of such damages.
Restrictions on use and ownership
All pages within this website and any material made available for download are the property of BOOM IT WORLD. The content on the site is provided for informational purposes only and not to be treated or referred otherwise. BOOM IT WORLD hereby grants you a nonexclusive licence to use the Site solely for your personal, non-commercial user to obtain information or data. You warrant BOOM IT WORLD that you will not use the site for any unlawful conditions. If you breach any of these Terms and Conditions, your authorization to use this site automatically terminates and you must immediately destroy any material.
The contents of the website, including the text, images, audio, and video, are copyrighted and may not be distributed, modified, reproduced, or used, in whole or in part, without the prior written consent of BOOM IT WORLD
Third party links
Certain content, products and services available via our service may include materials from third parties. The third-party links on this site may direct you to third-party websites that are not affiliated with us. We are not responsible for examining or evaluating the content or accuracy and we do not warrant and will not be responsible for examining or evaluating. We are not liable for any harm or damages related to the purchase or use of goods, services, resources, content or any other transactions made in connection with any third-party websites. Please review carefully the third party's policies and practises and make sure you understand them before you engage in any transaction.
Errors, Inaccuracies and Omissions
Occasionally there may be information on our site or in the service, which contains typographical error, inaccuracies or omissions that may relate to product descriptions, pricing, promotions, offers, product shipping charges, transit times and availability. We reserve the right to correct any errors, inaccuracies or omissions, and to change or update information or cancel orders if any information in the Service or on any related website is inaccurate at any time without prior notice.
Contact us
Mail us at following E-mail id.